Swamp Stomp
Thank you for downloading Swamp Stomp!
Introduction
The SWAMPs of Pangea are full of fantastic fruit - the key to eternal life. But you are not alone in your quest to harvest these sweet treasures...
Go Bananas (and Pineapples!) with SWAMP STOMP. As Fearless Frank you romp through the SWAMP collecting fruit. To thwart you in this task, the marauding Green Gobblers scour the SWAMP trying to knock you out and steel your bananas. You must CLIMB Vine Ladders, JUMP across ravines, RIDE log lifts and navigate each level to WIN! Beware STOMPY the fearsome gorilla. He will STOMP on your head given half a chance so watch out. Good luck!
How to Play
SWAMP STOMP is a RETRO styled game and is played using gamepad controls at the bottom of your devices display.

The goal of each level is to collect all the fruit without losing all your lives. There are 3 FREE levels to play. An additional 29 levels, making 32 in total, are supplied with any In App Purchase you make. You lose a life it you walk into one of the Green Gobbler robots scouring the SWAMP for fruit or if STOMPY the gorilla lands on your head. STOMPY only comes out on later levels so there is plenty of time to improve your skills.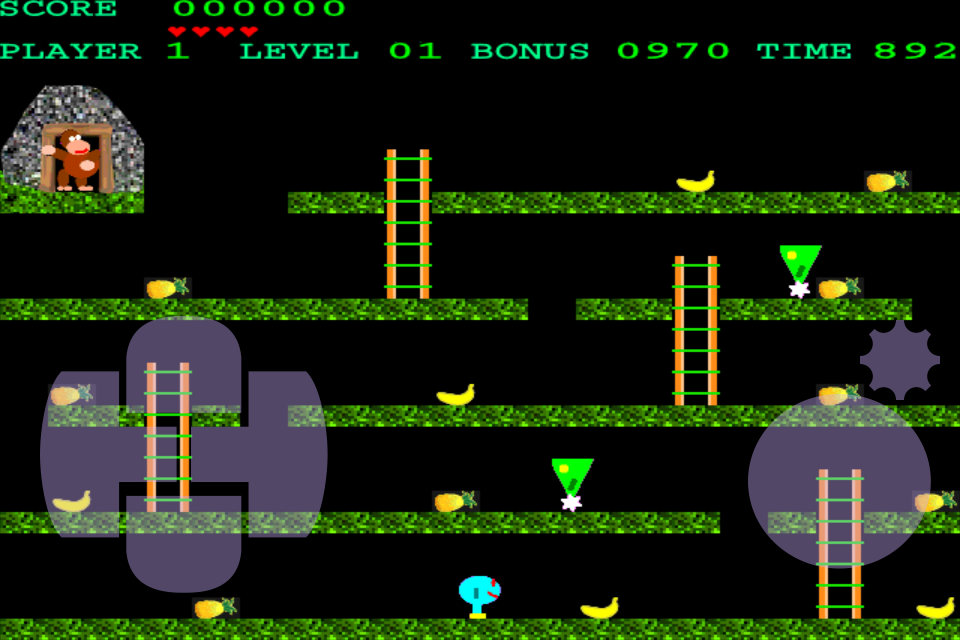 You can play with any version of iOS above version 4.3 on your iPhone, iPod or iPad.
PLAY in portrait or landscape orientations by simply rotating the device as you play. Use the right hand button to jump and to make selections on screen. Use the left hand direction button to walk left or right and climb up or down. You also use the left button to cycle through selections on screen when entering your name for the local high score table or when selecting levels if you have purchased the level selection feature.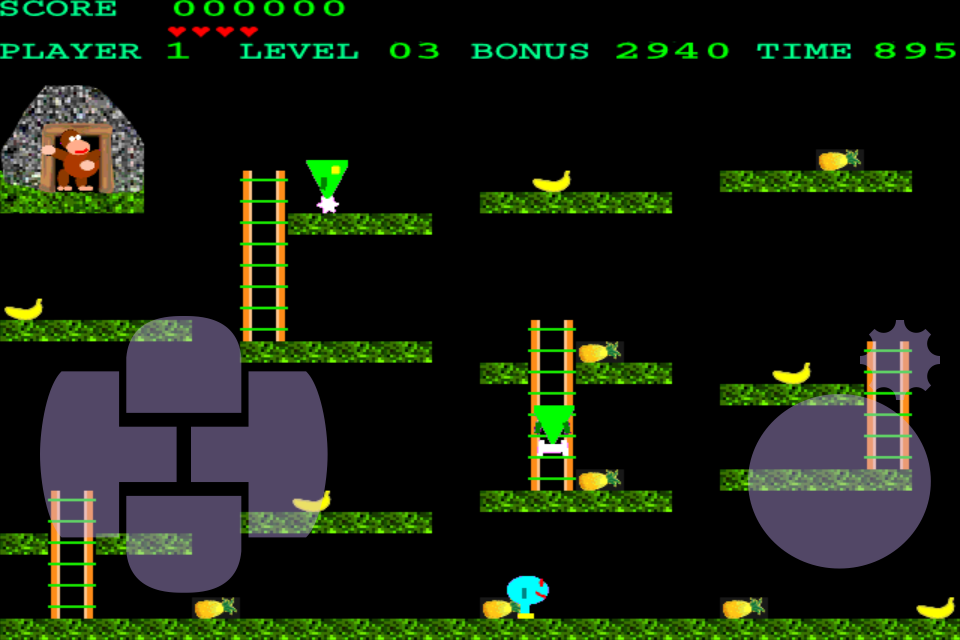 Scores are sent to the game center in addition to being added to the local 'RETRO' style score board if they are high enough. Can you beat your firends? Why not challenge them from within Game Center?
Settings Emporium
to access the game settings press the round control button in the bottom center of the screen. This will bring up the Settings Emporium. A number of features appear at the top that can be activated via In App Purchase. Simply tap the red label to start to purchase the feature. Once purchased the on/off slide button allows you to engage / disengage the feature as you need it. Each purchase will also ensure all 32 ENGAGING levels are unlocked for play for free.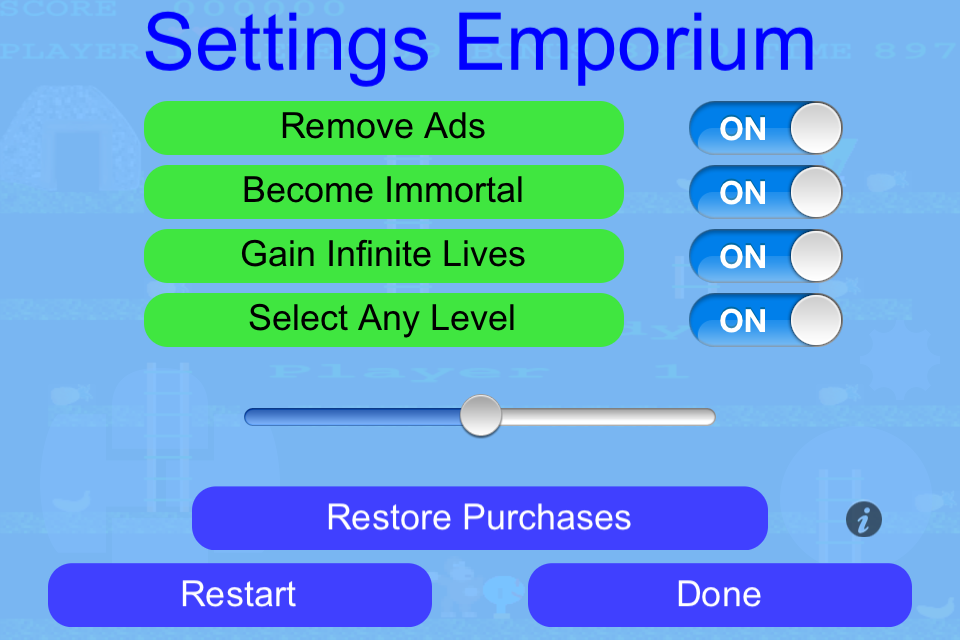 You can set the size of the gamepad controls using the slider in the center of the screen. As you slide the Emporium fades so you can preview the cotrollers at the selected size.
You may also "Restart" the game if you are stuck or simply wish to start again. You may "Restore Purchases" for example if you move to one of your other devices and finally the "Done" button exits the Settings Emporium.
In App Purchases
The following items are available for purchase in the Settings Emporium:
REMOVE ads
BECOME immortal
GAIN infinite lives
SELECT starting levels
Thanks Again!
Thank you again for downloading and enjoy playing SWAMP STOMP!
If you wish to leave feedback or request support please complete our form.
If you enjoyed playing SWAMP STOMP why not try Neon Starlight.
Copyright ©2013 Intrepid Universe Limited all rights reserved.